MEET THE TEAM
Volley is modernizing racquet sports with the first AI-enabled training experience. Backed by cutting-edge technology, Volley delivers the on-demand, dynamic system for live play training and better workouts. Volley creates a community to connect pros and players while giving users personalized performance insights to track progress and customize their practice. Volley supports pros with new ways to interact with players, helps facilities boost program participation, and provides everyone with more opportunities to play the game they love.
John Weinlader
CEO
Ten years ago, John found platform tennis and hasn't been the same since. As Volley's chief visionary, John sees a world where racquet sports training is ubiquitous, always accessible and unlocks the full potential of players and pros. John holds a BS in Engineering Science from Penn State and an MBA from Northwestern University.
Dan Weinlader
CTO
Dan has spent his career at the crossroads of hardware and software. From designing semiconductors to creating the world's first AI racquet sports robot, he is driven to create products to fill a void. Dan holds a BS in Electrical Engineering from Penn State and an MS and PhD in Electrical Engineering from Stanford University.
Tebe Williams
COO/CFO
Tebe leads Volley's Operations, Finance and Strategy functions. As a new to racquet sports player, Volley has helped him advance his play years faster than traditional training alone. Tebe holds a BA in History/Philosophy from University of Illinois and an MBA from Northwestern University.
Marek Czerwinksi
Sr. Director Business Development
A former professional tennis player and teaching pro, Marek designs our training programs and leads business development. He also remains undefeated in all intercompany play at Volley. Marek holds a BS in Finance from University of Illinois.
Steve Titus
VP Advanced Technology
Steve leads our Software Development and Vision teams, creating Volley's responsive AI platform. An avid tennis player, Steve is drawn to the opportunities that responsive live play can enable for racquet sports training. Steve holds a BS in Electrical Engineering from Duke University, an MS in Computer Science from UNC Chapel Hill and a PhD in Electrical Engineering from University of Michigan.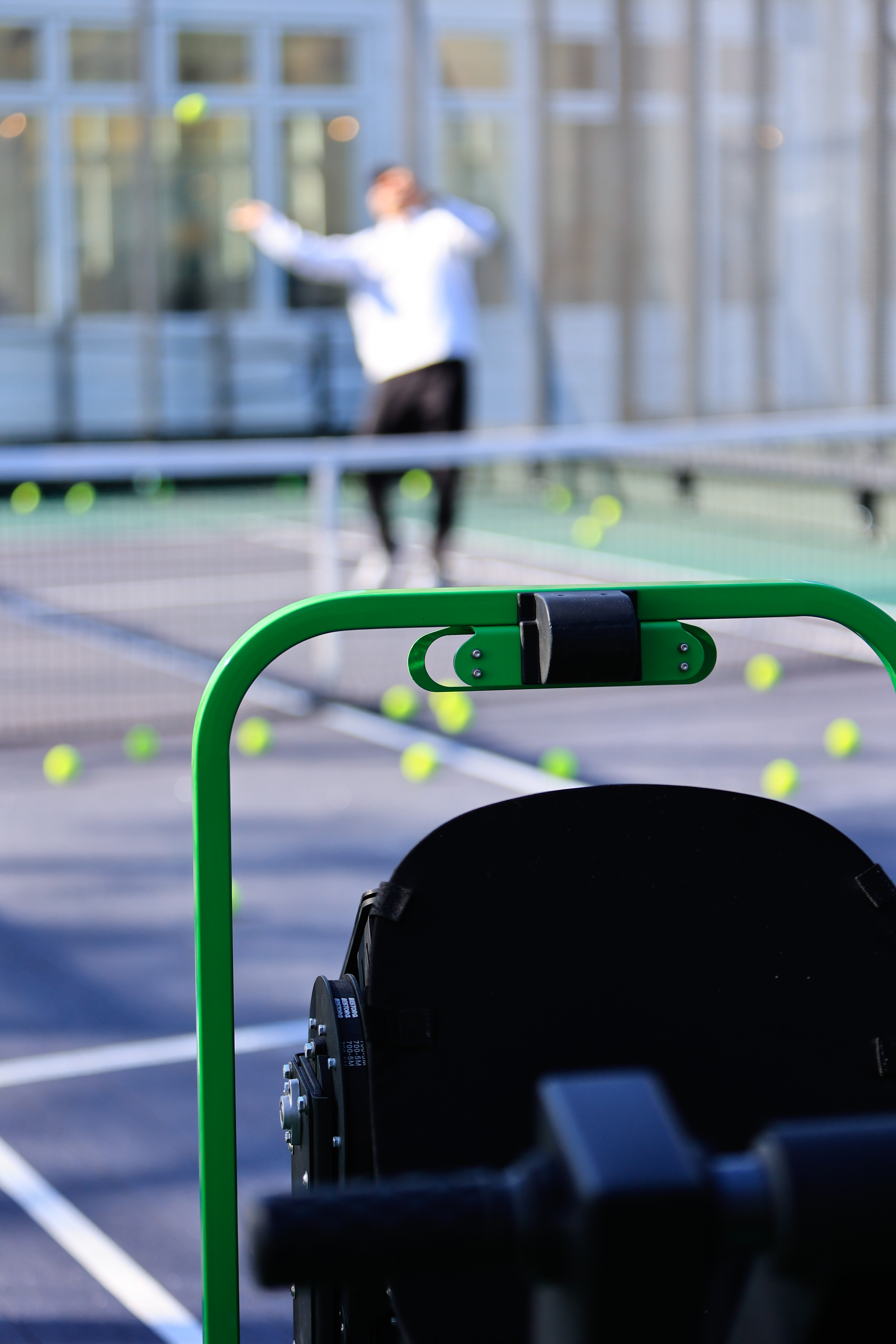 The Story
John loved platform tennis. As a busy professional and family man, "paddle" provided a critical competitive outlet to his life. The problem was, he just couldn't get enough training time to improve his game. Further, when he was free, it was often outside of normal hours. An engineer and builder to his core, he rigged up an improvised ball machine at his club. It turns out, he wasn't alone in looking for ways to up his game. Players across all skill levels would stop him after his practice sessions and ask where they could buy their own machine.
It became apparent that there was an immediate and intense need that was not being met in Platform Tennis. John knew a simple ball machine was not enough. He resolved to transform his ball machine into an extensive training experience that brought advanced technology, pro expertise and the player community together for all racquet sports. And that's how Volley began!
Our Commitment
Volley created a state of the art performance center to design, build and test its trainer technology. Within indoor testing courts, a full engineering and design team, and 20,000 feet of space, we have the resources to create the world's best in class racquet sports tech.